Our Staff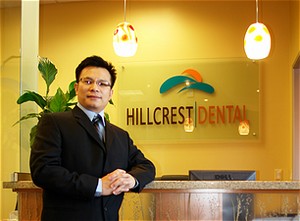 Dr. Vo was raised in the Bay Area. He graduated from U.C. Davis with a Bachelor of Art in Biological Sciences with Honors. To realized his passion for health care , he attended the dental program at Boston University School of Dental Medicine. Although he liked the fast diverse metropolitan city life of Boston, he misses his strong ties to his family, friend, and home town. After graduation, he established Hillcrest Dental in Dublin, Ca for it small town charm and close proximity to his family and friends.
He actively engaged in his dental profession by being members of American Dental Association and California Dental Association. He spread the messages of good dental health and all of the diverse dental services to the community by participating in local community events.
In his spare time, Dr. Vo enjoys an active outdoor lifestyle of camping, hiking, fishing, and mountain biking.
Office Location
7042 Dublin Blvd
Dublin CA 94568
Phone: 925-82-TOOTH (86684)
Fax: 925-833-8334
Click here for map
Office Hours
Mon & Wed: 9AM- 5PM
Tues &Thurs: 8AM - 4PM
Fri & Sat: 8AM - 3PM